Environmental action behind the scenes of IHME artworks
13.10.2021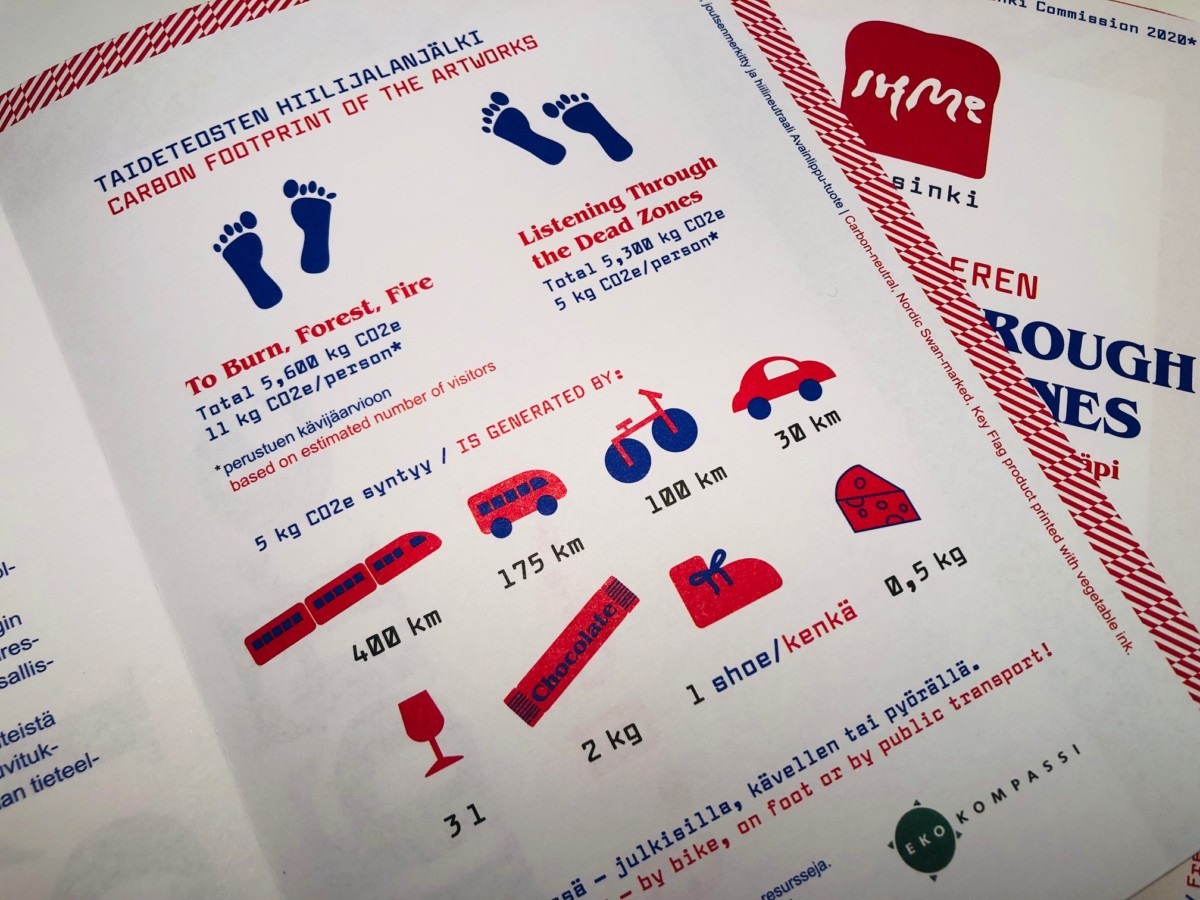 "IHME was one of the first organizations to take ecological sustainability as their starting point," said Katie Paterson, the artist commissioned to make IHME Helsinki 2021 project.

"I appreciate the work IHME has done for raising awareness of – and actually calculating the carbon footprint of the production. It is inspiring for other organisers and artists," said Jana Winderen, the artist for IHME Helsinki 2020 commission.
Addressing ecological concerns on many levels at IHME
In 2021, IHME carried out two commissioned artworks, which gave people a chance to deal with feelings and information about the environmental crisis. Environmental aspects were also taken into consideration behind the scenes. During a production process spanning several years, IHME has made systematic efforts to minimize the emissions generated by travel, energy consumption, catering, purchases and waste.
The Ecocompass environmental certification received by IHME emphasizes the importance of communication. At a time when both the art scene and society need a radical shift in a more ecological direction, the greatest environmental impact of actors such as IHME can be a positive one and result from communication. IHME has simultaneously taken measures to cut down on its negative impact by applying the best-available information.
Biggest emissions from travel
The biggest source of emissions for the two recent IHME productions was travel, despite corona restrictions. It is often necessary for the artist to travel to the target country at least once for the installation of the artwork or exhibition. But there could have been many more flights during the making of the two artworks. For example, it would have been possible to fly to Ecuador or Japan, and the artists could have visited Finland more often. In this case, the background work and most of the communication with the artists was done remotely.
Circular economy in marketing, too
In marketing the artworks IHME has considered both the carbon footprint and the principles of the circular economy: reduce, reuse and recycle.
Reduce: We carefully planned the number of printed products for the estimated size of audience, so that nothing would be left over. The leaflets are carbon neutral or FSC certified. Commercial outdoor advertising was done on ecological digital billboards.
Reuse: The IHME signs and IHME banners used to increase event visibility are re-used from year to year. Pavement signboards were rented.
Recycle: IHME hopes that visitors will keep the leaflets as a memento of the event and ultimately recycle them as paper. The paper will then circulate as raw material!
Prudent procurement and certified stakeholders
IHME has made purchases very consciously. For example, the sound equipment needed for Jana Winderen's work was not bought but rented. In addition, several transportation options were compared: the speakers were acquired from St. Petersburg as they could be brought from there to Finland by road. We chose not to rent sound equipment from London or Berlin, because that would have required the use of air cargo.
Where possible, IHME has procured materials from environmentally certified operators. The incense in Katie Paterson's fragrance work was sourced from Shoyeido, a Japanese incense maker with long traditions. It has been awarded the ISO14001 environmental certificate and is committed to energy and resource efficiency, and to preserving biodiversity. Shoyeido is also an inspiring example of fostering biodiversity: the company has a garden of rare plants and contributes to the restoration of the habitats of the endangered East Asian yellow waterlily (Nuphar japonica).
Vegetarian food and wild fish
Food is a factor that has one of the biggest and most direct impacts on both climate and biodiversity. Although the importance of food is small in these art productions, it is the one sector where everyone can make the biggest difference every day.
From the carbon-footprint perspective it is most important to reduce consumption of meat, especially beef. That is crucial for preserving biodiversity in rainforests, too. According to a list compiled by WWF, deforestation of rainforests is caused not only by beef and soy for animal feed, but also by the cultivation of cocoa, palm oil, wood products and coffee. Diet also affects the Baltic Sea: eating cyprinid fish, such as roach, removes nutrients from the sea, and helps combat eutrophication, algal blooms, oxygen deprivation and loss of species diversity in the Baltic.
For these reasons, vegetarian food or wild fish have been chosen for meals during the production of IHME artworks.
Carbon footprint calculations to be completed
Jana Winderen's Listening Through the Dead Zones is estimated to have a carbon footprint of 5,300 kg CO2e, and Katie Paterson's To Burn, Forest, Fire a carbon footprint of 5,600 kg CO2e. The calculations will be finalized later.
Peer support for eco action
Many actors in the artworld are wondering where to start the journey towards ecological sustainability. Siobhan Maguire, Katie Paterson's studio manager, has thanked IHME for its support in environmental issues. The artist and her studio were not left to work things out alone. Anyone can get information and peer support on carbon-footprint calculations from IHME's free public Ecoblog.