IHME publication shortlisted in competitions
24.03.2020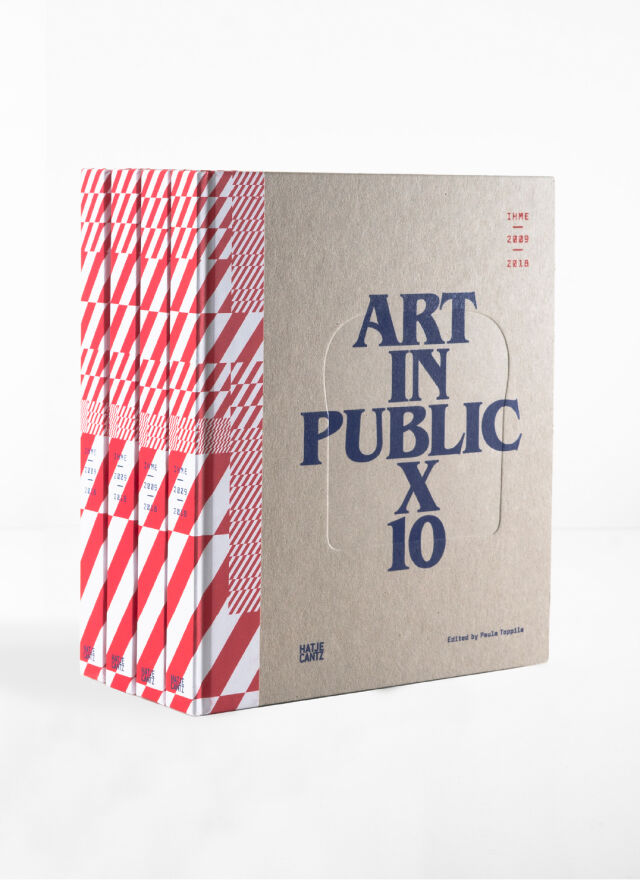 IHME 2009-2018 – Public Art x 10 publication is shortlisted in two design competitions in Finland. The book presents the ten annual commissions by IHME conceived by established contemporary artists. The book is designed by Ilona Ilottu, founder and director of Dog Design.
The Finnish Book Art committee has chosen the publication in The Most Beautiful Books of the Year collection. One of the books receives the honorary title of the Most Beautiful book in March 24th 2020. When choosing the Most Beautiful Books of the Year the Committee tries to find works in which form and content support each other as well as possible. The starting point for evaluating works is the overall graphic design, beginning with the typography and ending with the finished printed product. The Most Beautiful books collection is on display every year in Finland at venues including libraries and book fairs, and abroad in international festivals and competitions.
IHME's publication is also shortlisted by Grafia for Vuoden Huiput in the category of publications. Vuoden Huiput is annual creative design competition. The event aims to raise the quality of design, strengthen creativity and originality and to promote designers´expertise. The awards are announced in the Gala arranged this year due to corona virus epidemy in September.
IHME 2009-2019 – Art in Public x 10 brings together visual documentation of the ten annual IHME commissions, and features conversations with the artists: Mirosław Bałka, Yael Bartana, Christian Boltanski, Jeremy Deller, Antony Gormley, Henrik Håkansson, Susan Philipsz, Kateřina Šedá, Superflex, Theaster Gates & The Black Monks of Mississippi.
The design of the book is based on the IHME's visual identity by Kokoro&Moi. The publication is edited by IHME's Executive Director and Curator  Paula Toppila. The book includes a text by the founder of Situations in Bristol, Claire Doherty. In her text Doherty reviews IHME's "quietly remarkable" position as international organization producing art commissions in public realm.
The book is available in web bookstores, also from the publisher Hatje Cantz.