New book brings together 10 years of IHME
17.04.2019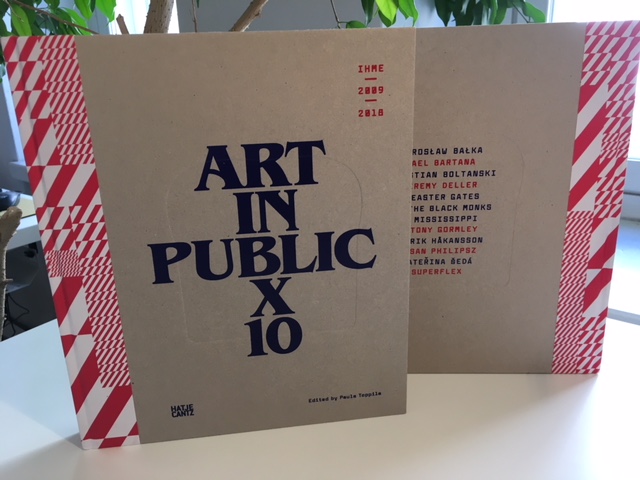 Do you remember the 100,000 kilo cube of modelling clay, the semaphore signals in urban space, the world's longest film, the museum objects in shopping centres, or the buskers on trams? IHME 2009-2018 – Art in Public x 10 brings all of them and five other IHME Projects together under one cover.
This book edited by IHME Executive Director Paula Toppila contains transcripts of the discussions with the artists at IHME Contemporary Art Festivals. In her essay Claire Doherty, former head of British art organizations Arnolfini and Situations, sums up the importance of IHME's role as a commissioner and producer of public artworks:
"Reviewing the decade of IHME Festivals provides a clue to the new frontiers of public art practice. What we see with hindsight is that the new forms of address, new time-frames, new processes of engagement and encounter, new formulations of public, and new considerations of place that will come to dominate the next decade were already sparkling across the streets, and seeping into the collective consciousness of Helsinki over the past ten years."
The volume's graphic design bears the imprint of DOG DESIGN's Ilona Ilottu and the layout follows the familiar red-blue-and-white scheme designed for IHME by the Kokoro&Moi creative agency. The book is being published by the prestigious German publishing house famous for its art books, Hatje Cantz.
The texts are in English and give an overview of IHME's past history at a time when its work and objectives are being reset with an eye to 2020-2022.  More details of the new operating model will be announced during the spring.
IHME Artists 2009-2018: Miroslaw Balka, Yael Bartana, Christian Boltanski, Jeremy Deller, Theaster Gates & the Black Monks of Mississippi, Antony Gormley, Henrik Håkansson, Susan Philipsz, Kateřina Šedá, Superflex.
The book is available online from the publisher.