Geomancers – Inspiration for a Sustainable Future
06.09.2022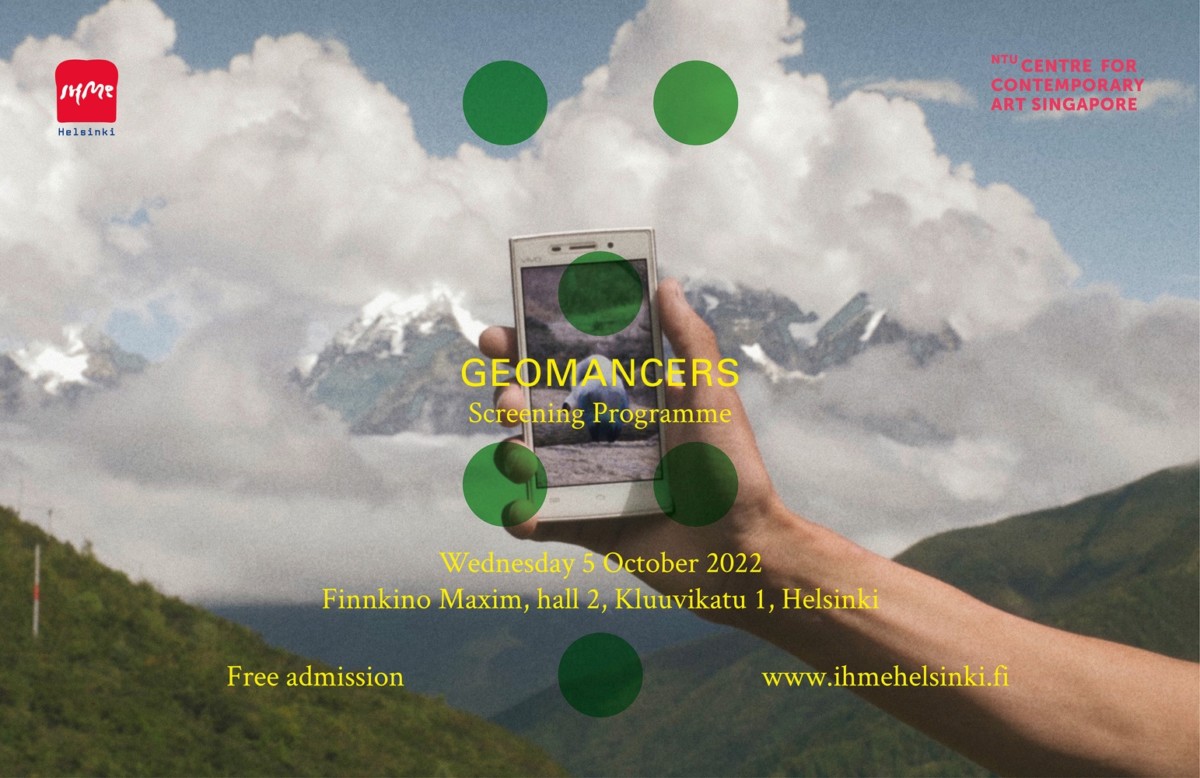 Thank you all who participated in the screening!
Tell us what did you think? We value your opinion. It would be great to hear your thoughts to develop our operations. By providing feedback you can participate into a prize draw for three IHME 10 years anniversary books and two packages including three vinyl albums by Theaster Gates. You can give your feedback with an electronic from >>
The information you provide will not be disclosed to third parties. Thank you for your feedback!
---
IHME Helsinki presents a free screening of video works offering perspectives on the future of humanity and our planet at 17:30 on 5 October 2022 at Finnkino Maxim in Helsinki.
Geomancers features nine video works that share a concern about the accelerating environmental crisis, the sixth wave of extinction, the marginalization of indigenous communities, and the loss of traditional knowledge. The title refers to geomancy, literally "foresight by earth" – chosen as a poetic framework for bringing together video works that reflect on the current state of the planet. This ancient divination method has its roots in the Arabic-speaking regions of North Africa and interprets the random patterns formed by objects, sand, or stones thrown on the ground. Geomancy was once used to understand the subtle interdependencies that shape the universe.
The film programme has been curated by Anna Lovecchio and Magdalena Magiera, curators at NTU Centre for Contemporary Art Singapore, a research centre of Nanyang Technological University. The video works were originally selected as part of the multimedia exhibition Free Jazz IV. Geomancers (NTU CCA Singapore, 14–23 January 2022). For the curators, these artists are modern-day geomancers who:
"prompt new modes of attentiveness and urge us to critically reconsider our relation to the planet. It is our hope that their art practices can contribute to raising and deepening our environmental awareness and that this awareness will, in turn, lay the foundations for individual empowerment and collective agency as we participate in the creation of this planet's future."
The works take the viewer from the shores of Panangatan in the Philippines to the Lofoten Islands in Northern Norway, they give voice to the consciousness of indigenous peoples and their folk tales, and show the complexity of the relationship between the human-shaped world and the natural environment. Together, they offer an opportunity to expand our ways of looking at the world outside the lens of scientific rationalism. The creators of the video works are award-winning artists working around the globe whose practice is based on long-term research and extensive fieldwork.
"NTU CCA Singapore has long studied the interactions between climate, oceans and habitats and strives to act in accordance with ecologically sustainable principles. So, for many reasons, we are excited that we can show this, at the same time, meditative, caring and thought-provoking screening programme by artists whose work is now being seen for the first time in Finland," says IHME Helsinki´s Executive Director Paula Toppila.
The screening celebrates IHME Helsinki's 15th anniversary. The screening lasts 3 hours and 30 minutes, including a 20-minute intermission. The video works are subtitled only in English. The screening is at Finnkino Maxim's (Kluuvikatu 1) auditorium 2, which has balcony accessibility for wheelchairs. Seats are limited and will be filled in order of arrival. We follow safer space principles. Come as you are. We recommend coming on foot, by bicycle or public transport. IHME Helsinki has been awarded the EcoCompass certificate. We are committed to saving our planet's natural resources, so we have not invited artists and curators. The event's emissions will be compensated.
There are video works by: Martha Atienza (Philippines); Zarina Muhammad (Singapore) and Zachary Chan (Singapore); Rice Brewing Sisters Club (South-Korea); Carolina Caycedo (Colombia/USA) and David de Rozas (Spain/USA); Pedro Neves Marques (Portugal); Ursula Bieman (Switzerland); Liu Chuang (China); Chu Hao Pei (Singapore); and Robert Zhao Renhui (Singapore).