IHME 2023 audience workers: Heta Heikkala and Viljami Valldén
31.03.2023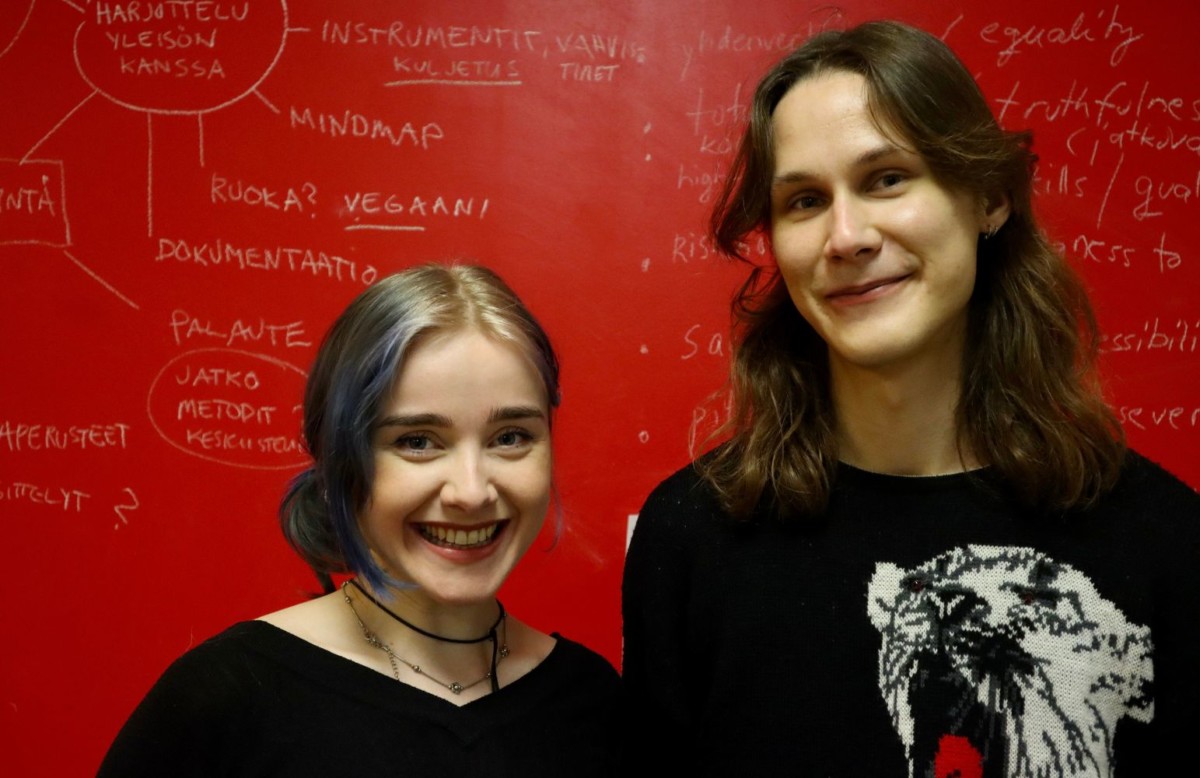 Two audience workers – Heta Heikkala and Viljami Valldén – have joined us for IHME Helsinki Commission 2023, Chicago Boys – While We Were Singing, They Were Dreaming. They will both work with the amateur band in the Commission at its private rehearsals at Stoa Cultural Centre and at public rehearsals around Helsinki.
Heta is a queer-identifying artist and student who is currently writing a master's thesis on climate debt. In her everyday life, she strives to find platforms for artistic work and social influence:
"I applied to be an audience worker for the communal Chicago Boys because of a desire to expand the important dialogue about the effects of neoliberalism on our shared life and culture, and to create spaces that promote hope and agency in an era of ecological crisis. I'm looking forward to exciting meetings with music and shared experiences!"
Viljami is a student of musicology, whose life largely revolves around music, including their passionate artistic work. What speaks to them about working at IHME is the absence of artistic and ethical compromise, which is why they did not hesitate to apply for this year's position as audience worker. In addition, the themes of Chicago Boys – community, polyphony and awareness – are close to them, alongside band activities:
"By meeting others and ourselves through music and conversation, we can find more responsible, humane ways to creatively move forward in the not always so brave new world."
Heta and Viljami will support and help the band members at private rehearsals. At the public rehearsals open to everyone, they will guide the public to the where the work is taking place, and encourage them to join in. You can also come and tell your own story or give them feedback about the Commission. You can sign up for the Chicago Boys amateur band by 14 April by emailing: chicagoboys@ihmehelsinki.fi.
Rehearsals begin on Monday, 17 April and, after that, you can also join the band every Saturday in public rehearsals open to everyone held around Helsinki. Specific times and places will be announced as the project progresses, and will be published on the Chicago Boys website and on the Facebook event page. Whether you are a musician, an amateur musician, or a non-musician, you are welcome to join in. See you at the rehearsals!