IHME Helsinki Commissions go out into the world
03.03.2022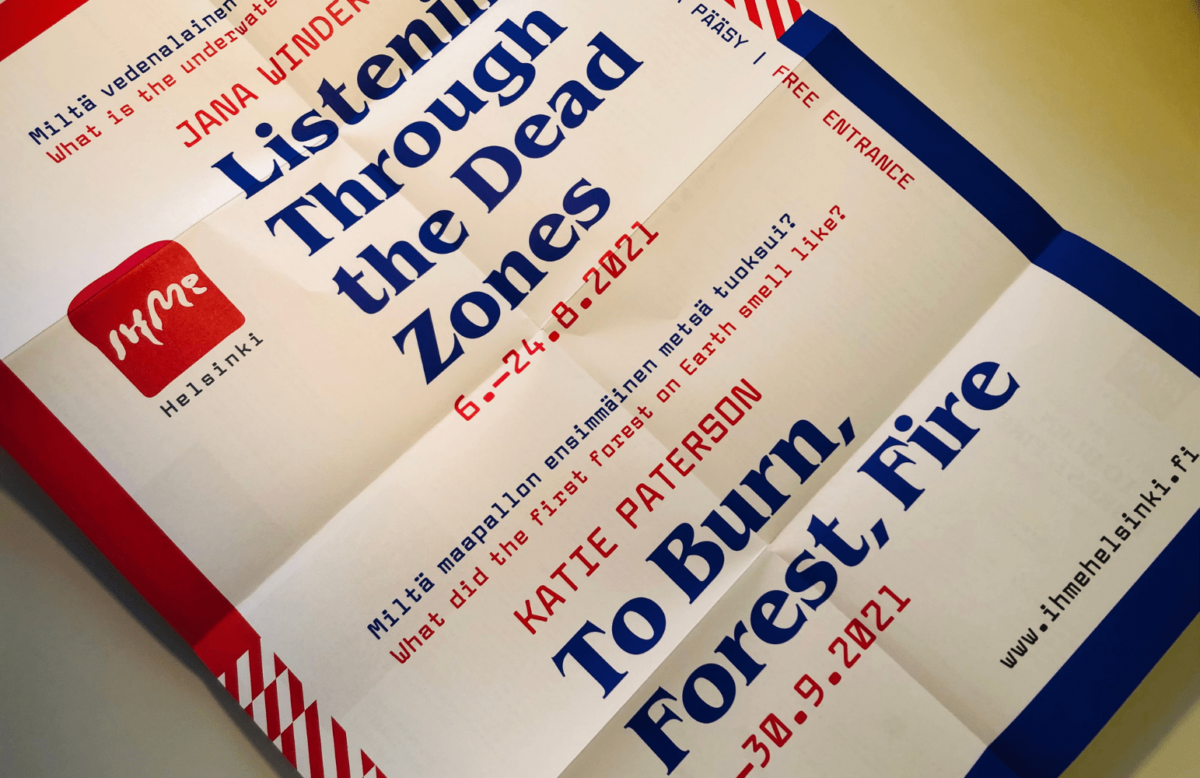 Commissioned works produced by IHME Helsinki are carried out in public space in Finland, but their life goes on after that. That means the results of 2-3 years of work by artists and collaborators reach a wider audience.
"The IHME Helsinki Commissions by Katie Paterson and Jana Winderen, both of which took place in 2021, are the result of a dialogue between art, science and climate work, and of IHME Helsinki's aim of studying the role played by art and art institutions in the sustainability transformation.
Because the environmental crisis is a global crisis, it is important to engage in international cooperation and to share experiences in dialogue with the rest of the world. Consequently, our aim is for it also to be possible to show the commissioned works that we produce in an ecologically sustainable way outside of the Finnish context, with partners who share our values," says IHME's Executive Director, Curator Paula Toppila.
Underwater voices travelled from St Petersburg to Singapore
IHME Commission 2020, Jana Winderen's Listening Through the Dead Zones, was staged at the HYDRA – New Media Art in the Context of Eco-Anxiety exhibition in St Petersburg from September 11, 2021, to February 27, 2022. In August 2021, Winderen worked on a new exhibition version of her site-specific sound installation – originally tailored for Helsinki Rowing Stadium – for this new exhibition, which extended to the Sevkabel Port area. The exhibition curated by Olga Vad and Lydia Gumenyuk and the varied programme put on around it combined art and science, and asked topical questions about the environmental crisis. In a panel discussion on sustainability in art Paula Toppila from IHME presented the ecological solutions involved in the artwork and in IHME's activities.
An exhibition version of Winderen's IHME Commission and Katie Paterson's IHME Commission 2021 were carried out during Singapore Art Week on January 17–23, 2022, by Nanyang Technological University's Centre for Contemporary Art Singapore (NTU CCASingapore). Professor and Curator Ute Meta Bauer, a member of IHME's Advisory Board and Director of NTU CCA, has worked with her team on topics that are also of direct concern to IHME Helsinki:
"NTU CCA in Singapore has long studied the interactions between climate, oceans and habitats and also strives to act in accordance with ecologically sustainable principles. So, for many reasons, we're excited that NTU CCA will be showing Katie's and Jana's IHME works at Singapore Art Week," says Paula Toppila.
Fragrance ceremonies around the world
Katie Paterson's To Burn, Forest, Fire connects two forests chronologically separated by 385 million years, but materially the work is tiny. People have been able to smell incense sticks that give off the scents of the world's first forest and its last at incense ceremonies not only in Helsinki in September 2021, but also at the SPIELART Festival in Munich last October-November. Fragrance ceremonies are currently being held as part of an exhibition at Galerie Tschudi in Zuoz, Switzerland.
The multi-site nature of the work will become a reality on International Day of Forests on March 21, 2022, when IHME Helsinki and Katie Paterson invite private individuals to hold their own incense ceremonies with loved ones, and to share the moment on social media. IHME has distributed and mailed about 200 incense packages to people interested in the ceremonies in Finland and abroad.
To Burn, Forest, Fire will also take place at Ingleby Gallery, Edinburgh, Scotland, from May 9 to June 11, 2022, and in the Galleri F15 exhibition space, Moss, Norway, from May 28 to October 5, 2022.
Place and time affect the interpretation of the works
We also follow the journey of the commissioned artworks made during the IHME Contemporary Art Festivals (2009–2018) that preceded IHME Helsinki. For example, the main protagonist of the 2011 IHME Project – the film and sculpture Modern Times Forever (Stora Enso Building, Helsinki) by the Superflex artist group – is a controversial building designed by Alvar Aalto in Helsinki. The artwork was carried out in February 2022 at LAGO / ALGO, Mexico City. Many who experienced it in 2011 said the slowly decaying building reminded them of the then-current events of the Arab Spring. In the present day and in the Mexican context, the work is likely to evoke very different interpretations in those who experience it.