Listening Through the Dead Zones kick off event at the Rowing Stadium August 22
04.08.2020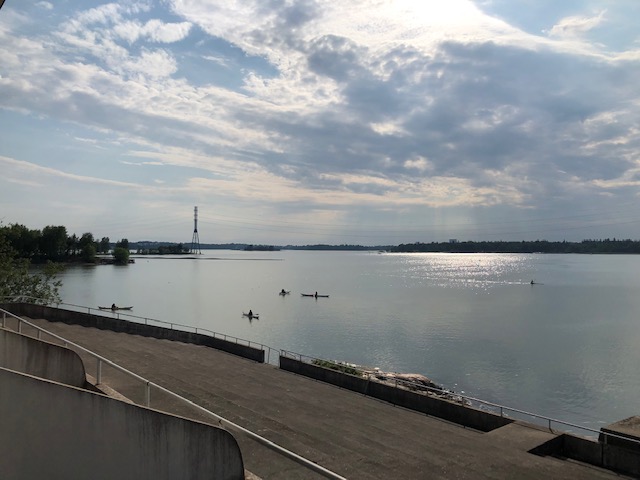 The state of the Baltic Sea and easy steps to protect it are at the heart of the Listening Through the Dead Zones kick off event day in August. The venue is a 1930´s  gem of functionalist architecture designed by Hilding Ekelund and only rarely open to the public: the Rowing Stadium on Taivallahti Bay, Helsinki >> location on map.
Saturday, August 22 at 10:00-15:00, Rowing Stadium, Merikannontie 4
10-12  Clean Beach – communal beach clean-up around Rowing Stadium.
12:15-12:30 IHME Helsinki Commission 2020 artist Jana Winderen's conversation with IHME's Executive Director, curator Paula Toppila outlines IHME's current activities
12:30-12:45 Baltic Sea Calculator, researcher Seppo Knuuttila, SYKE
12:45-13:00 Baltic Sea Action for Biodiversity programme, Content Director Laura Höijer, BSAG
13:00-13:30 An example of citizen's observation, Sailor and adventurer Kari "Ruffe" Nurmi
13:30-13:45 On citizen's observations in Baltic Sea research, researcher Jyri Tirroniemi, SYKE
13:45 #IHMEmeriteko competition winner prize award
The event is linked to IHME Helsinki Commission 2020, the artist Jana Winderen's Listening Through the Dead Zones. Due to the COVID 19 situation, the staging of this sound installation has been postponed until August 2021, when listeners in the Rowing Stadium grandstand will hear this sound work, which Winderen has composed from her own recordings of the sounds produced by underwater species.
The installation will remind us that there is a living environment that we do not see, even though our everyday choices affect its health and diversity. Winderen wants the event to draw our attention to the state of the Baltic and to the fact that everyone has a chance to help the Baltic Sea, for instance, through various citizens' science projects.
Communal effort to clean up shorelines
The day begins at 10 am with concrete action on behalf of the Baltic – cleaning up the shoreline by the Rowing Stadium. At the same time, we will hear about the Keep the Archipelago Tidy Association's communal programme, Clean Beach clean-up events which focuses on litter in waterways and on shores. Each item of rubbish found on the shore is logged according to an international model that collates data on litter for use in research. IHME will serve lunch to registered participants at the Rowing Stadium.
Talking point: The health of the Baltic Sea
The start of the talks programme the artist Jana Winderen  will be present via remote links from Norway. Paula Toppila, Curator and Executive Director of IHME, will discuss with Winderen the motives to arrange this event around citizen science programmes as part of her forthcoming commission.
At the event the limnologist and Baltic Sea researcher Seppo Knuuttila of the Finnish Environment Institute SYKE will talk about the Baltic Sea Calculator, which everyone can use to check their own footprint in the Baltic. Knuuttila will also choose the winning Instagram post in the #IHMEmeriteko competition. You can take part in this easy-entry photo competition, which ends on August 17, by recording everyday acts that delight the doer while also benefitting the Baltic Sea.
The Baltic Sea Action Group's Content Director Laura Höijer will introduce the Baltic Sea Action for Biodiversity programme. The project focuses on researching, protecting, and increasing the related awareness of diverse underwater areas. Precious ecosystems in need of protection, particularly around Finland's coasts, are often in private waters, so their owners have a key role in their conservation.
Research material gathered on seagoing adventures
The sailor and adventurer Kari "Ruffe" Nurmi will talk about his sailing escapades, on which he has contributed to charting the state of the Baltic Sea. Ruffe organized Finland's biggest, 120-person communal sailing trip, which spotted floating plastic waste and collected samples of microplastic for use by researchers at SYKE. The bottom of Ruffe's yacht is currently serving as a test bed for various anti-fouling coatings. The series of tests is part of SYKE's research project aimed at preventing the spread of invasive species on the bottoms of boats. Jyri Tirroniemi of SYKE will give a researcher's viewpoint on Baltic Sea research projects, in which civic actions also play an important part.
The event is also part of IHME's search for volunteers to jointly test Baltic Sea conservation measures. The active group will share their experiences of Baltic sea actions to accompany Winderen's Commission in August 2021. Further details from IHME's Cultural Producer Päivi Matala.
The event is free and open to all in line with safer space principles.
If it is not possible for the event to be held live because of COVID-19 restrictions, the talks will be streamed online.
The safety of the event is important to us. We comply with COVID-19 pandemic restrictions and observe safe distancing and hygiene. Please do not attend if you are unwell. Thank you.
In accordance with the instructions of Ministry of Education and Culture and Finnish institute for health and welfare, we ask event participants to leave their contact information to be able to track the infection chain if needed. Information is not used to any other purpose and will be deleted after the time needed for infection tracking.
Details subject to changes.