Join us on the International Day of Forests – hold your own incense ceremony
27.09.2021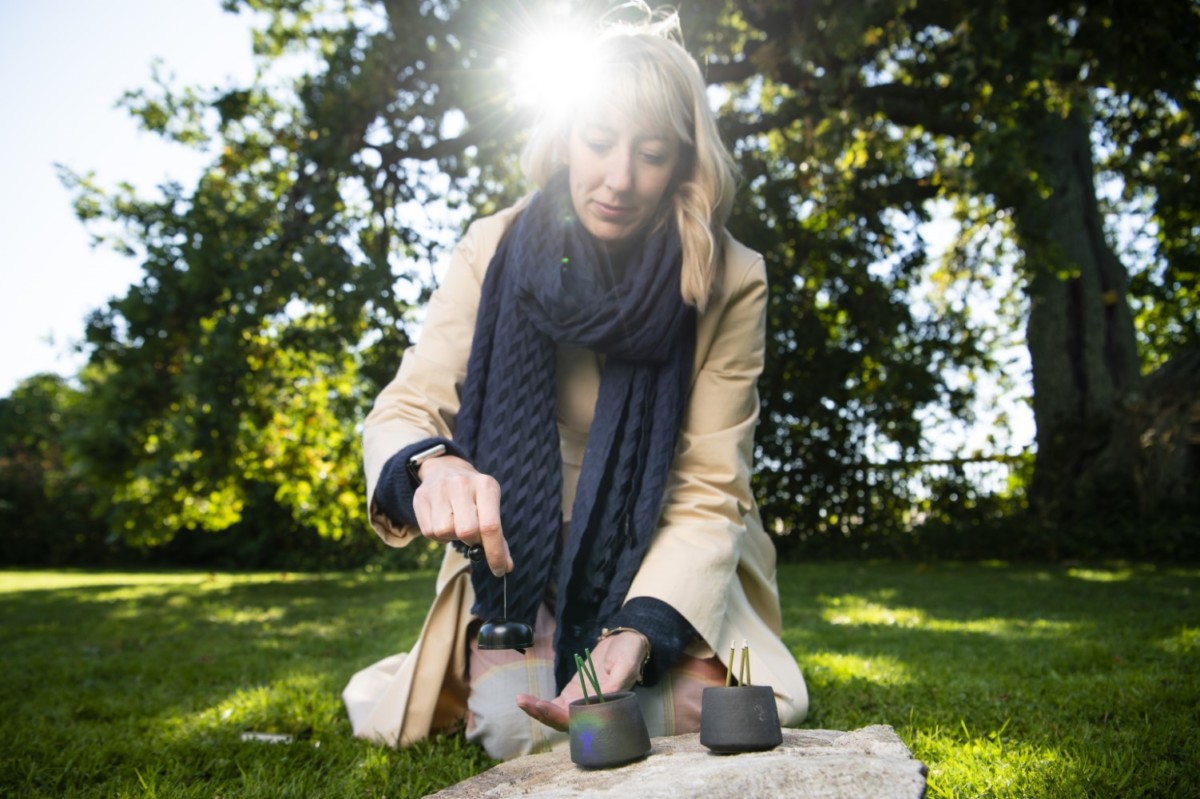 Join us on the International Day of Forests on March 21, 2022 – pick up your own To Burn, Forest, Fire incense pack on October 1, 2021, and hold your own ceremony
IHME Helsinki and artist Katie Paterson will hold the last public incense ceremony of IHME Helsinki Commission 2021 at 5-6 pm on October 1 at the Kamppi Chapel, Narinkkatori, Helsinki. In conjunction with this last ceremony we will be giving out 100 incense packs containing incense sticks from both the very first forest and the last forest.
This pack is an invitation to join IHME Helsinki and Katie Paterson on the International Day of Forests March 21, 2022, by holding your own incense ceremony with family and friends. That moment can be shared with others by taking a photo and posting it on Instagram with the hashtags #IntlForestDay, #ToBurnForestFire, @ihmehelsinki and @katiempaterson.
Scents of the first and last forest as incense
Paterson's IHME Helsinki Commission 2021 titled To Burn, Forest, Fire consists of the scent of the first-ever forest on earth and the scent of the last forest of the age of climate crisis. These scents were made into incenses and have been burned across a variety of sites around the city of Helsinki on September 1–30, 2021.
Altogether 34 ceremonies have been held for the public to attend in different parts of Helsinki – from the National Museum to Suomenlinna island's oldest oak tree, from the new facilities of the Fine Arts Academy of the University of Arts to the Observatory, Kumpula Botanic Garden, the club space of Helsinki Association of the Deaf in Malmi, and many more.
Where to pick up your own incense and instructions for holding your own incense ceremony
You are welcome to collect your own incense pack and instructions for holding your own incense ceremony at Kamppi Chapel, Narinkkatori, Helsinki, at 6-7 pm on Friday, October 1. On registering for this collective event held to raise awareness of the importance of forests you give your name and e-mail address so that IHME Helsinki can keep in touch with you between collecting your incense packages and the day of the incense ceremonies, i.e. International Day of Forests, March 21, 2022
The monthly newsletter will give you information about the forests and links to interesting events and materials online. You will also receive instructions for holding your own incense ceremony and a booklet containing scent diagrams and an essay by professor David Haskell.
International Day of the Forests
The United Nations General Assembly proclaimed March 21, 2012, the International Day of Forests to celebrate and raise awareness of the importance of all types of forests. Countries are encouraged to undertake local, national and international efforts to organize activities involving forests and trees, such as tree-planting campaigns.
The organizers are the United Nations Forum on Forests and the Food and Agriculture Organization of the United Nations (FAO), in collaboration with Governments, the Collaborative Partnership on Forests and other relevant organizations in the field.
"Humanity's well-being is inextricably linked to the health of our planet. Forests play a crucial role. Forests filter the air we breathe and the water we drink. They regulate our climate, absorbing one-third of the global greenhouse gases emitted each year. Forests provide habitat to 80 per cent of all known terrestrial species, many of which are under threat. Today, more than 1 million of the planet's estimated 8 million plant and animal species are at risk of extinction. Some 1.6 billion people depend directly on forests for food, shelter, energy, medicines and income.
Despite all that they provide, forest loss continues at an alarming rate. We continue to lose 10 million hectares of forests, an area roughly the size of Iceland, every year," says Secretary General of the UN, Antonio Guterres in his statement, which you can read in full here >>