IHME Helsinki 2023 Chicago Boys 6/6: Stoa Cultural Centre 27.5.
11.05.2023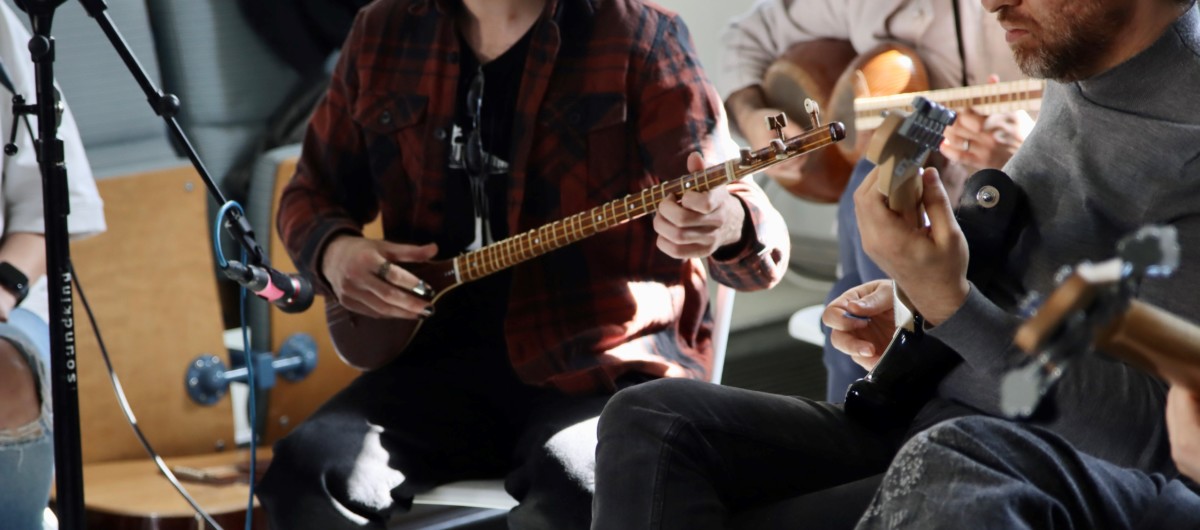 Chicago Boys – public rehearsal in Stoa Cultural Centre
The sixth and final public rehearsal of IHME Helsinki Commission 2023 Chicago Boys – While We Were Singing, They Were Dreaming will take place in Stoa Cultural Centre on Saturday 27 May from 5 pm to 7:30 pm. The last rehearsals bring together the music and stories that have been shared during the project in five different locations around Helsinki.
Chicago Boys has visited Lapinlahti Hospital, Puhos shopping center, Riistavuori forest and senior home, Stansvik forest and village community, Matokallio forest and Myllykylän kylätalo. All of these valuable nearby forests and places of diverse urban culture are threatened by neoliberal economic and development thinking.
We warmly welcome everyone to watch rehearsals or participate in the band's music and discuss the links between the economy, the environmental crisis and everyday life in Helsinki. The event is held in English.
Schedule
17:00 – 17:30 Free socializing and dinner in the Stoa theater hall (A limited amount of food is available at the event. You can also bring your own food!)
17:30 – 18:00 Presentation of the IHME Helsinki 2023 Commission
18:00 – 18:30 Panel discussion:
SEARCHING FOR THE SOUL OF THE CITY – citizen activism and urban planning in the times of sustainability transformation
IHME Helsinki 2023 – the panel discussion related to the work Chicago Boys – while we were singing, they were dreaming brings out the points of friction between urban activism and urban planning with the help of six panelists. Among the panelists are representatives of urban activism, landscape architecture and research. The following questions are raised in the discussion: where is the soul of the city to be found? How should Helsinki and urban planning be developed so that both ecological and social sustainability and diverse public spaces are secured for different city dwellers?
The following experts will participate in the panel:
Doctoral researcher Sara Zaman, urban planning systems, University of Helsinki
Matokallio activist Jaana Patrakka, sociologist
Resident activist Marja Keränen, Riistavuori group
Managing Director Ville Pellinen, Lapinlahden Lähde
Subculture manager Juhana Hurula, DIY Helsinki association
Landscape architect Varpu Mikola, Nomaji
Architect, researcher, University Lecturer Hossam Hewidy, Aalto University
The panel discussion will be recorded and shared on IHME Helsinki's YouTube channel.
18:30 – 18:40 Break
18:40 – 19:30 Music. We will play five songs of the band's choice
During the six-week training period, the amateur band has learned to play the following songs:
Bella Ciao (sung in Finnish, Chinese and Farsi)
Tuuli se taivutti koivun larvan (Finnish folk song, sung in Finnish)
Aman, hey Aman (Kurdis song, sung in Kurdish)
Matokallio rock for Matokalliorock (Tune: Rock around the clock, sung in Finnish and English)
Kalevala inspired song about endangered mosses (sung in Finnish, the lyrics written by one of the band members)
Coffee, tea, refreshments and snacks are served at the event.
Free admission!
Haluatko pysyä ajan tasalla IHMEen toiminnasta ja tapahtumista?
Tilaamalla uutiskirjeemme, kuulet uusimmat uutisemme noin kerran kuussa.