IHME Helsinki 2023 2/6: Puhos shopping center
05.05.2023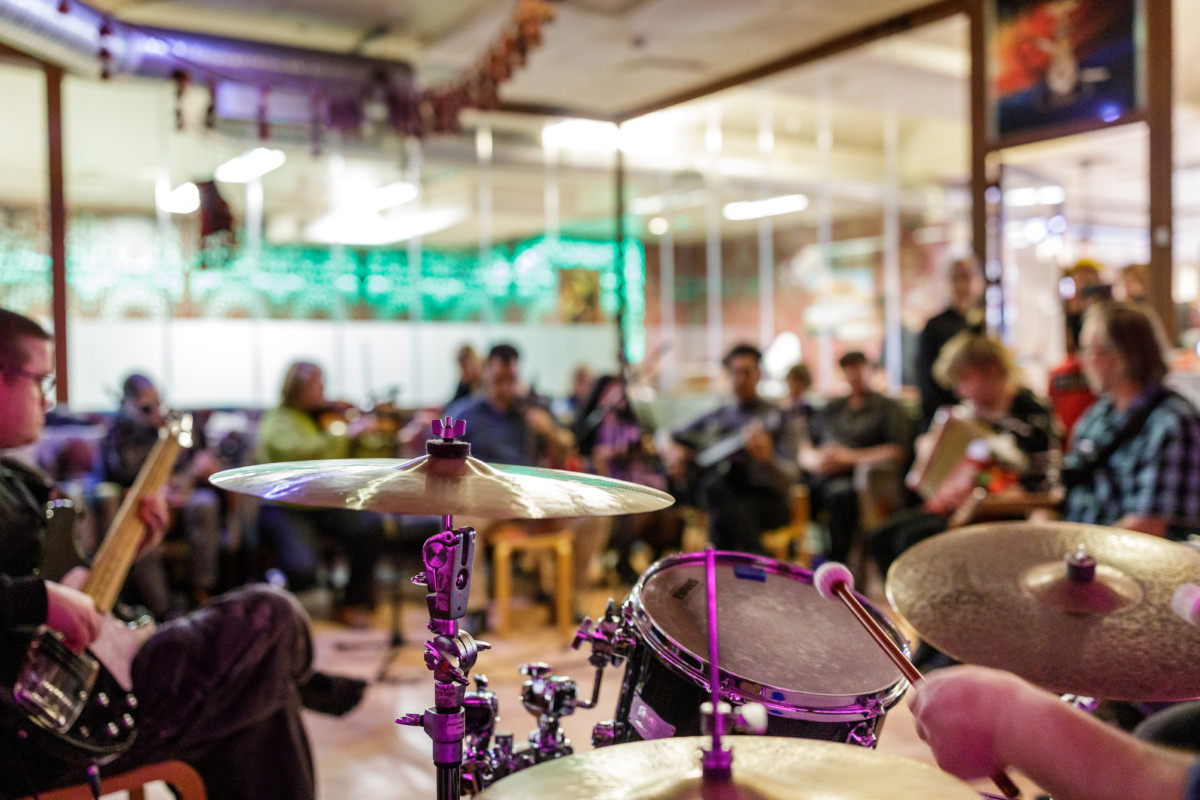 Chicago Boys at Puhos
The second public band rehearsals of IHME Helsinki 2023 Commission Chicago Boys – While We Were Singing, They Were Dreaming took place in Puotinharju's Puhos shopping center and restaurant Kirkuk on Saturday, April 29, 2023.
The expert guest at the rehearsals was the architect, researcher and university lecturer Hossam Hewidy, who studied diversity in urban space in his doctoral dissertation. Hewidy talked about the Puhos past and present from the point of view of neoliberal system thinking and explained the origin of Puhos' distinctive atmosphere to the band and audience gathered in restaurant Kirkuk.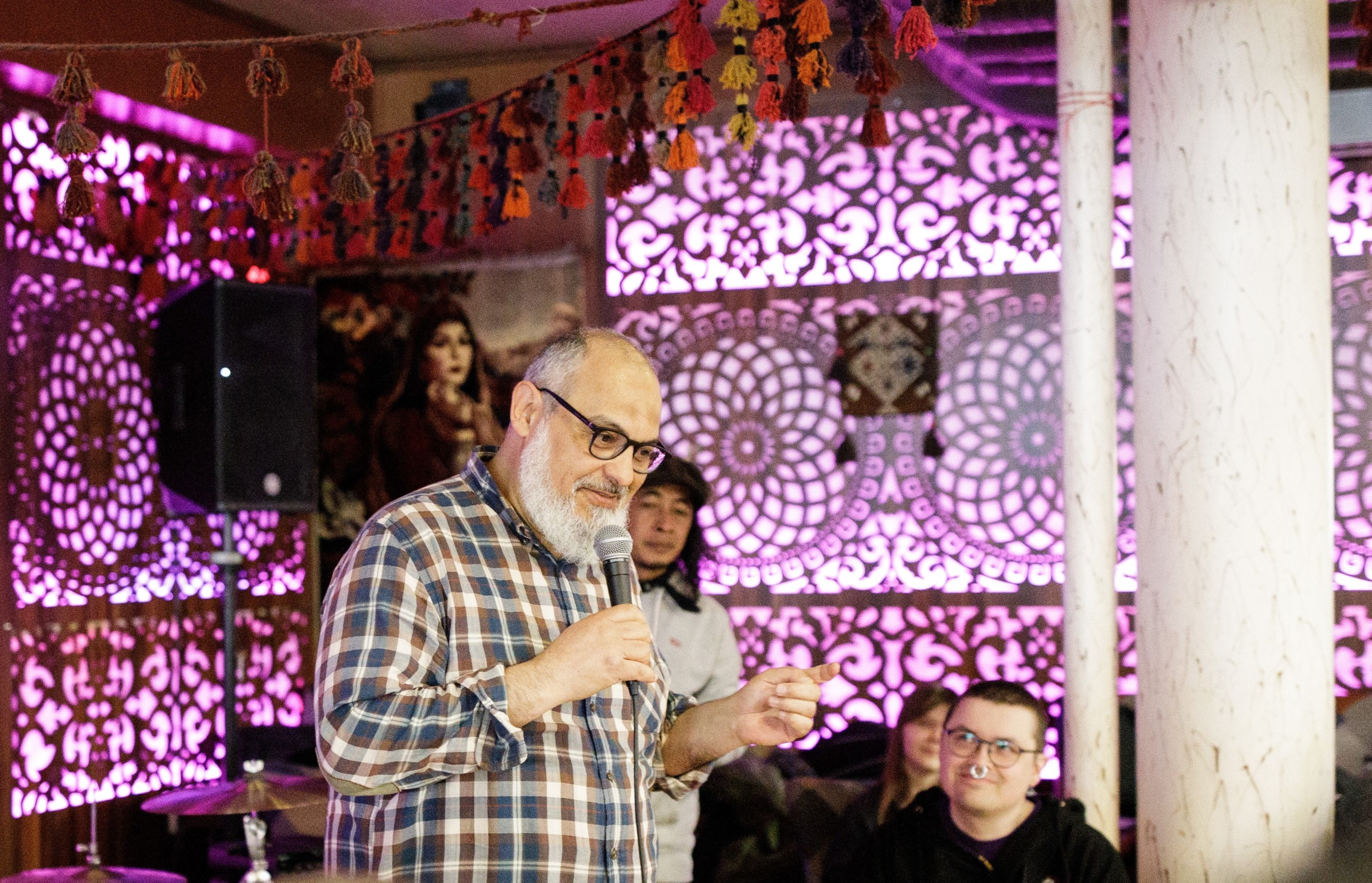 The organic flourishing of Puhos
Opened in 1965, the Puhos shopping centre, designed by Erkki Karvinen, has developed over the course of a couple of decades from a quiet, dilapidated plot of land into a lively, multicultural, communal centre for restaurants, retail shops and services, and a meeting place for people. This development has occurred through the voluntary actions of local actors, without urban planning directed from above. According to Hewidy, the "organic flourishing" that took place in Puhos was started off by a mosque. The mosque acted as a magnet: first a cafe, then a barber's, and soon several other businesses were set up nearby. Today, Puhos is a vibrant shopping centre where you can find everything you need all in one place, and where, in between shopping, people spend time meeting their social and cultural needs.
According to Hewidy, the motivation for many entrepreneurs with immigrant backgrounds working at Puhos has been a desire for independence and self-employment. When starting a life in a new city involves obstacles and the labour market is inflexible and does not structurally favour immigrants, you have to take the reins into your own hands. In Hewidy's opinion, multiculturalism should be better taken into account in urban planning, but, instead, the focus of the city's general plan is on anti-segregation and regional efficiency, which is also evident in the reform plans for Puhos. Hewidy sees a blind spot here: the meanings of places and other forms of symbolic value are not taken into account when we move blindly towards goals and focus on numbers. He feels that the fear of segregation in Helsinki is exaggerated and wishes that manifestations of multiculturalism could be seen as opportunities, not threats.
According to the current reform plans, the old part of Puhos will be renovated, while the newer part will be demolished to make way for residential buildings. According to the plans, some of the current shops will be allowed to stay in Puhos, while others will have to move out. The situation in Puhos is linked to the themes of the IHME Helsinki 2023 Commission; neoliberal values are also strongly present in urban planning. The influence of neoliberalism on the running of cities can be seen, for example, in efforts to minimize public-sector services and to outsource them to the private sector. Hewidy said that,
in the capitalist neoliberal city we are turned from citizens into clients and customers, while the city becomes a shareholder.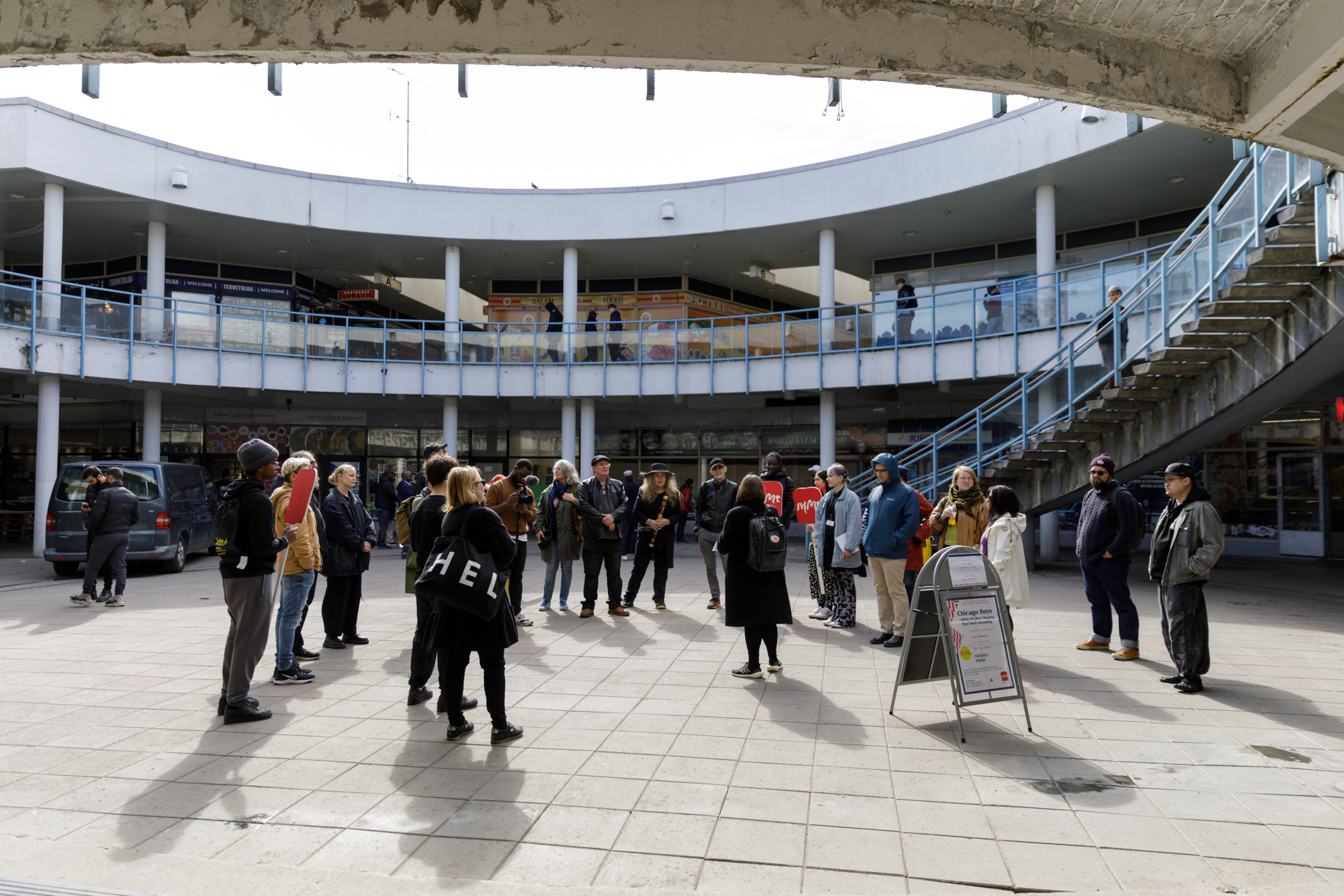 Band rehearsals
Puhos turned out to be a meaningful place for the members of both band and audience. As they shared their own stories, experiences and thoughts about Puhos, what emerged, for example, was its importance as an employer and as a homely environment where you can have a chat and get service in your own language. Puhos' reform plans aroused various thoughts in band members and the public. Some were worried about the loss of the current atmosphere of the place, and of its businesses and the jobs they provide, while others hoped that the new residential buildings would at least be more beautiful than the current one.
During the rehearsals, the band played three practice pieces: the Italian partisan song Bella Ciao, which has become a worldwide protest song; the Kurdish song Aman hey Aman, which tells of isolation, loneliness, longing and love; and the South Ostrobothnian folk song Tuuli se taivutti koivun larvan, which foretells a coming storm.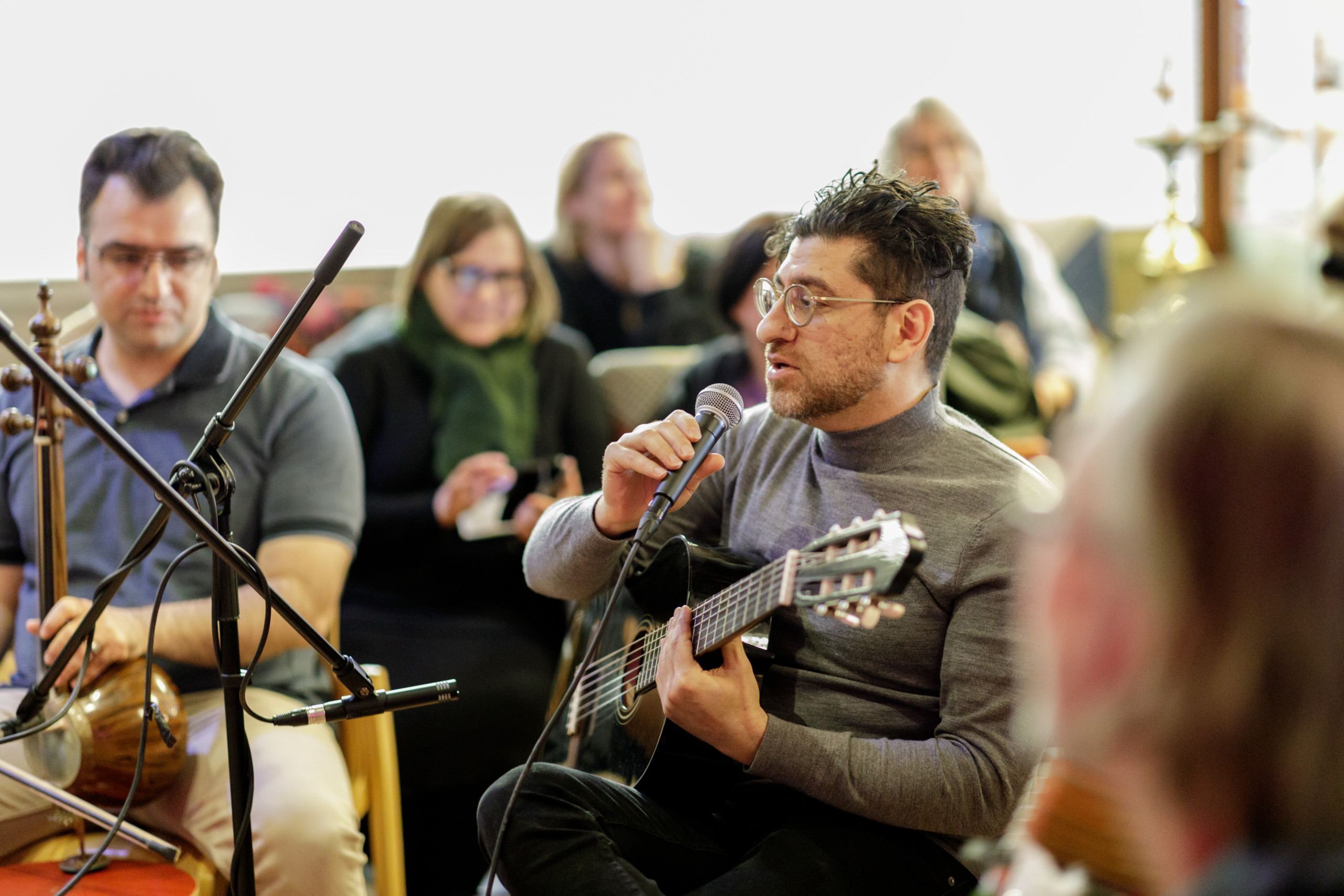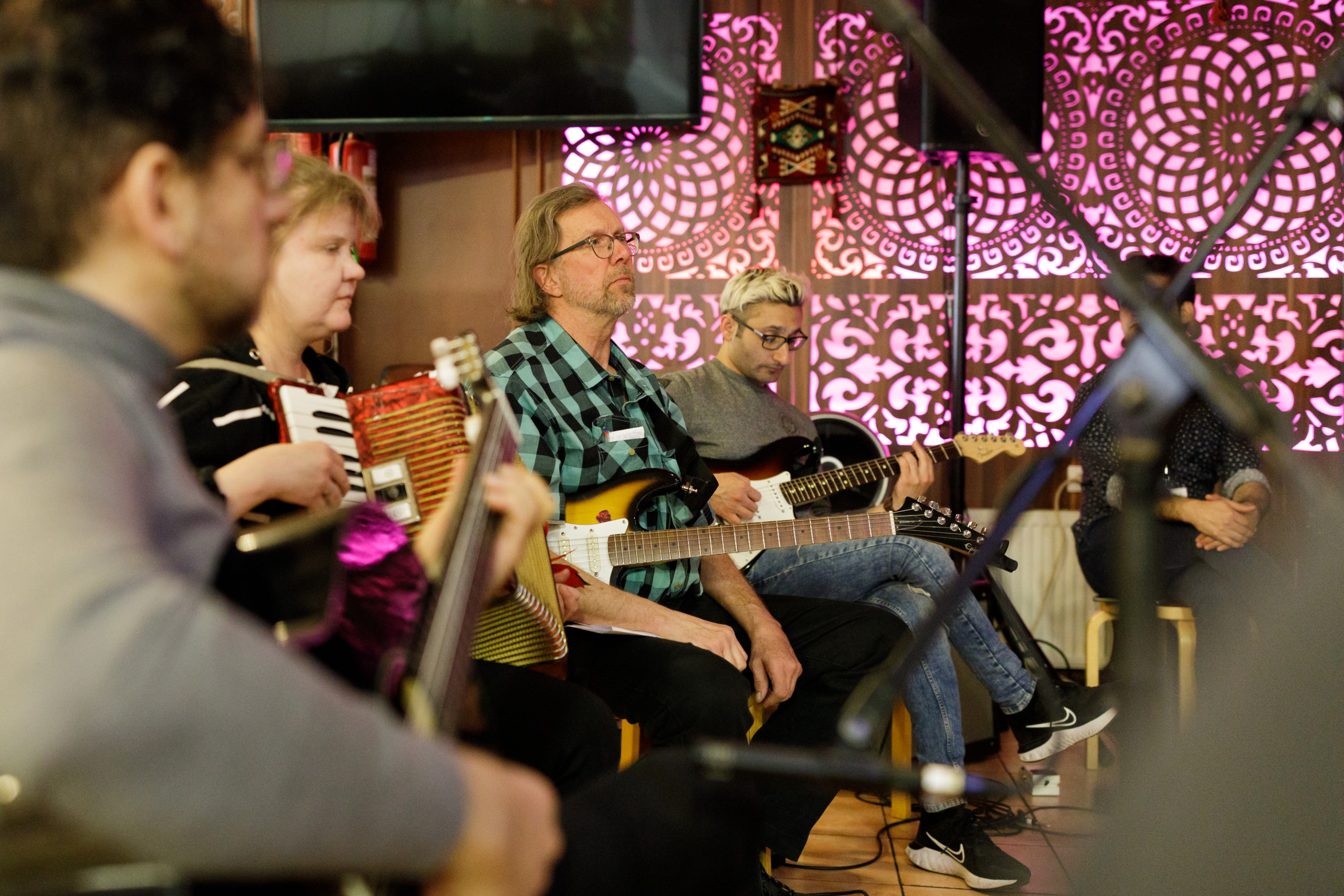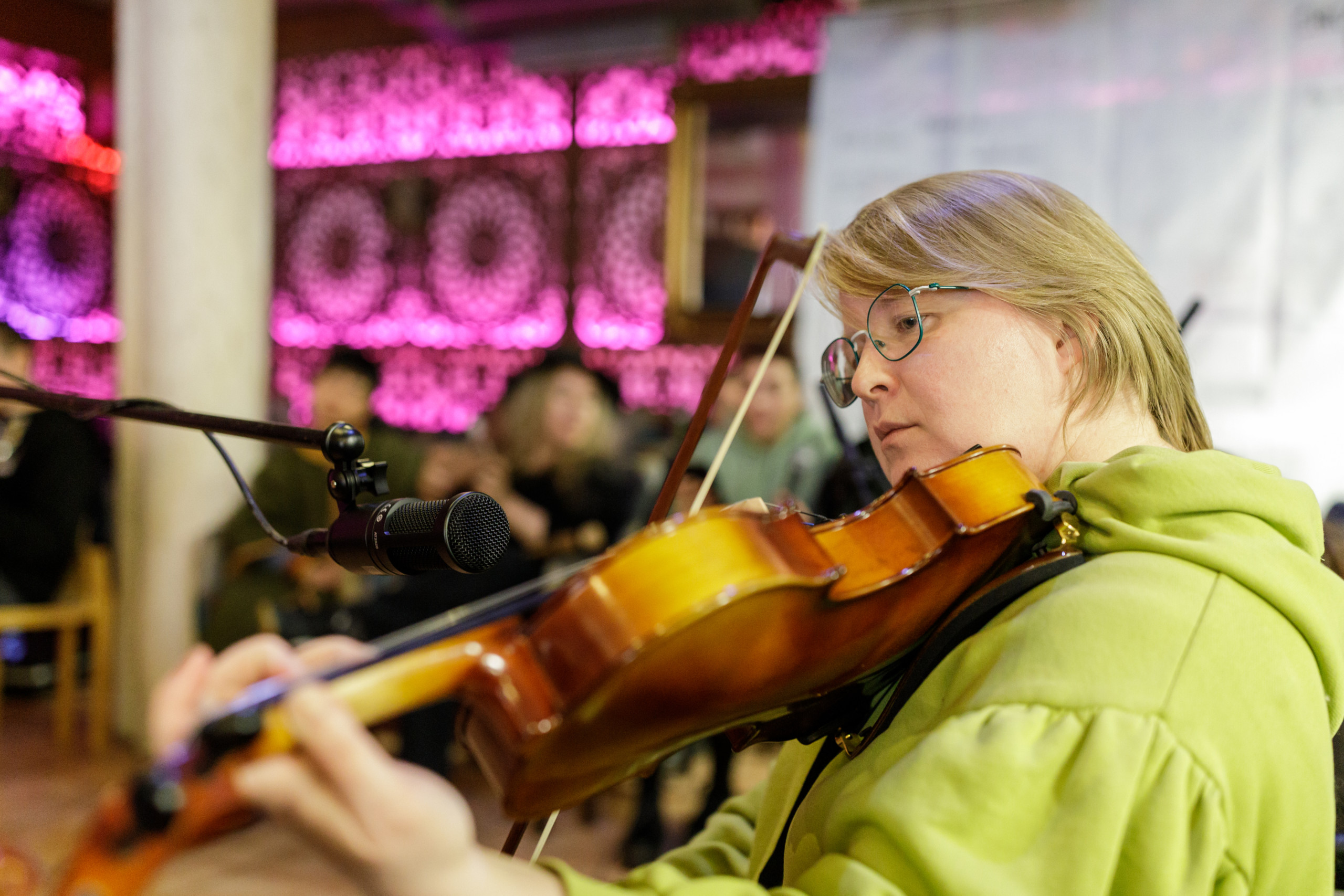 In IHME Helsinki 2023 Commission, a diverse group of musicians and non-musicians, who are united by the desire to play music and to think about the connections between the neoliberal economy and environmental changes in everyday life, form a band and practice together for six weeks.
Next public rehearsals 12:00–15:30 on 6.5 in the forest and senior centre at Riistavuori. Welcome!