IHME Helsinki is seeking a writer to summarize IHME Commission 2022
18.01.2022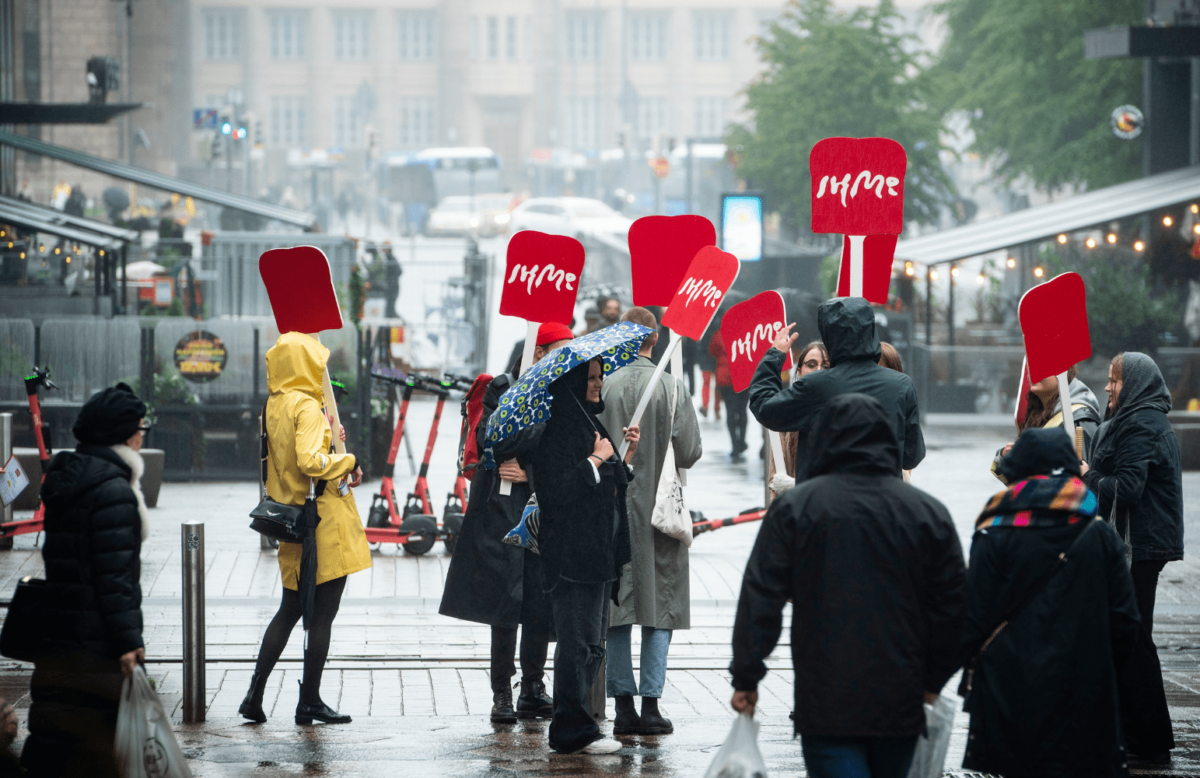 The contemporary-art commissioning organization IHME Helsinki is offering someone a unique opportunity to participate in IHME Helsinki's commissioned artwork for 2022 – the online course Learning from Doubt given by award-winning Indian artist Amar Kanwar – and to pass on your own reflection to IHME's audience in writing at the end of the course.
In Learning from Doubt, the artist will present the development of his ongoing, 15-year project The Sovereign Forest, and its close links with the political and economic crises in the Indian province of Orissa that have changed the lives of local people. Kanwar's long-standing interests include the concepts of crime and violence, the importance of evidence shrouded in silence, and the question of whether poetry can serve as evidence of a crime. The Commission is aimed at people resident in Finland. Dates and additional information on the course are on our website.

The writer will also find out about the work of an ecologically sustainable, international contemporary-art organization.
Duties:
• Attend all sessions of the Learning from Doubt course
• Participate in the weekly guidance meetings (except for holiday weeks)
• At the end of the course, write an analytical piece about the course for IHME's website
The position will last February-May 2022. The IHME Helsinki 2022 Commission, Amar Kanwar's online course Learning from Doubt, will take place once a week starting on February 15 and ending on May 3 (10 sessions in total, except for holiday weeks). Amar Kanwar's films will also be screened in Helsinki on May 4.
Your job is to attend all parts of the course and write an analysis/art critique/other text of a type to be agreed upon and to be released at the end of the course. The length of the text will be decided separately with the chosen individual (approx. 5-7 pages). Learning from Doubt lectures will only be accessible to those who have registered by Jan 9. The writer's job description is to produce an expert text in which they unpack the content of the course based on their own expertise, experience and background, for a public audience that is unable to participate, but is interested in new, critical modes of expression and perspectives on contemporary art and its worldviews, as well as on sustainable practices in the field of art. The text will be published on IHME's website and distributed through the channels used by IHME.
In addition, the job includes weekly meetings with your supervisor, Paula Toppila, Executive Director and Curator of IHME Helsinki. These meetings will be agreed in more detail with the successful applicant.
Skills required for the job:
IHME Helsinki's focus is on art, science and climate work, and our vision is to help our audiences adapt to the sustainability transformation. These are also important starting points for the writer's job.
Extensive general knowledge as well as an understanding of the principles of ecological sustainability and contemporary art are an advantage. Kanwar's work relates to global economics, politics, agriculture and forestry, human rights and the environment, so expertise in these areas is an asset.
The applicant should be a fluent writer who is able to clearly express and provide reasons for their ideas on content produced in the context of art. This part-time, fixed-term position would, for example, suit a Master's student, doctoral student or researcher, but we welcome any skilled, critical thinker and writer to apply. The position would be particularly rewarding for an applicant who wants to promote ecological sustainability, and to reflect on the role of art in the transition to sustainability and sustainable practices in the field of art.
Amar Kanwar's course is in English, so excellent oral and written proficiency in English are essential.
More about the artist, the Commission and IHME Helsinki
Applying for the position:
We hope to receive applications from various age groups, from different genders, and from people belonging to linguistic, cultural or other minorities. In your application, you may wish to mention belonging to any of these groups. All information will be treated confidentially.
Your free-form application should include a curriculum vitae showing any education suitable for the job, previous work experience, published articles, language skills, motivation for doing this particular job, relationship with ecological sustainability and contemporary art. In your application, also state your desired salary and include two short sample texts in English (the text will be translated to Finnish).
Submit your application by January 27, 2022, to rekry@ihmehelsinki.fi with the Subject line "IHME 2022 – Writer". Postal applications are to be sent to: IHME Helsinki, Pro Arte Foundation Finland, Kalevankatu 4, 2nd floor, 00100 Helsinki. Applications will not be returned. Those invited for interview will be notified in person. All applicants will be notified of the decision by email no later than February 11, 2022.
More information:
Executive Director of IHME Helsinki, Paula Toppila, paula.toppila@ihmehelsinki.fi, +358 45 1240 096. Calls: 10-11am, Friday, Jan 21 and 11am until noon, Monday, Jan 24.
Information about IHME Helsinki and Commissions: www.ihmehelsinki.fi
Subject to change.
IHME Helsinki's work is made possible in 2020 -22 by support from our founding body Pro Arte Foundation Finland, Kone Foundation and the Saastamoinen Foundation.