IHME Helsinki Podcast series: Art, Science, Ecology
15.04.2021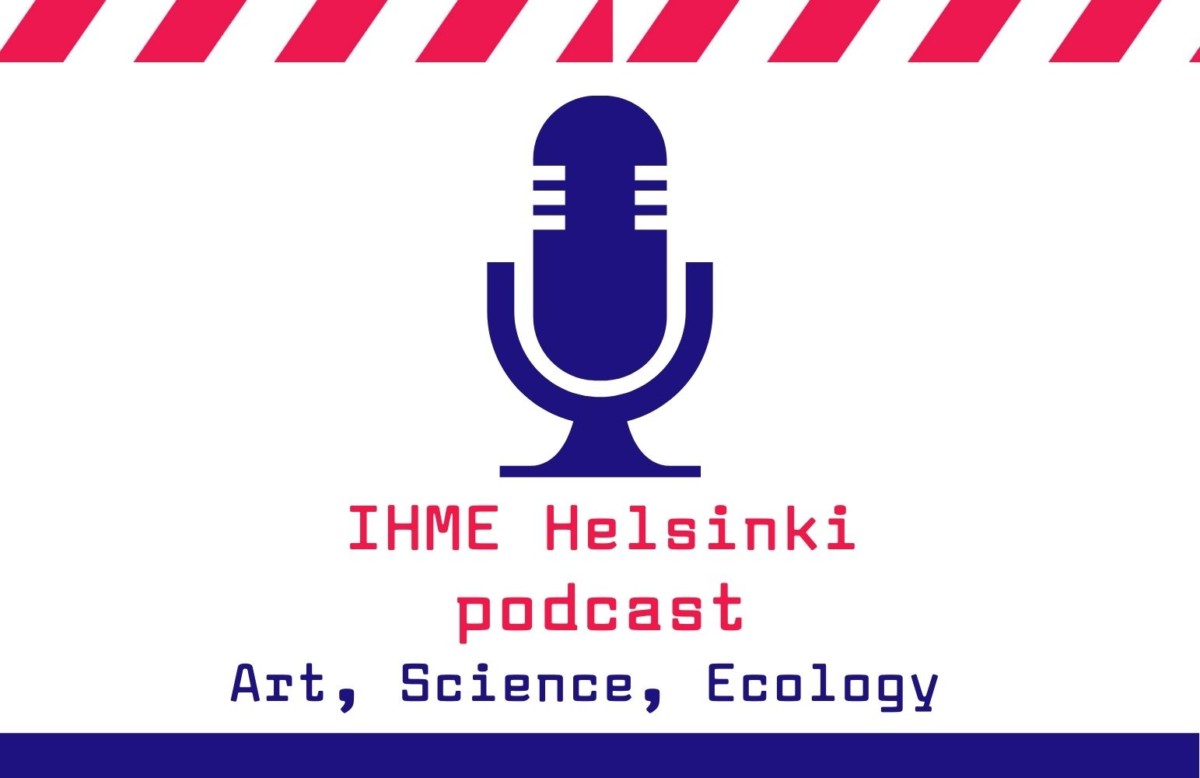 Members of IHME Helsinki's Advisory Board are to host a series of podcasts on the themes of Art, Science and Ecology. They will discuss new approaches in art and in the lives of artists and art institutions responding to the environmental crisis. How can we raise awareness and activate our audiences, reduce our carbon emissions, create a more sustainable art world, and promote a cultural shift in which less is more?
IHME acknowledges that the climate crisis and loss of biodiversity are also crises for the art world, and that this alarming situation requires immediate changes in thinking and action. At the current rate of carbon-dioxide emissions humankind will have used up our carbon budget within seven years.
The making of a sustainable biennial
"All of us on IHME Helsinki's Advisory Board are seriously committed to finding solutions to questions such as: How to steer art institutions towards ecologically sustainable practices; How to increase awareness and create meaningful discourse in these challenging times; and How to rethink our relationship with the environment. In this podcast series we discuss a variety of urgent topics, often by asking How," Executive Director and Curator of IHME Helsinki and Chair of the Advisory Board Paula Toppila describes the focus of the series.
In the first podcast Toppila and the Artistic Director of the Biennale of Sydney José Roca will discuss the ecological transition that is taking place in the making of the forthcoming 2022 biennial.
Ecocide as an international crime
The other podcasts will deal with a variety of questions, such as: Ecocide as an international crime; the role of art in energy identities, media extraction, and material as witness; and how to educate future generations of artists in resilience and sustainable practices.
In the second in the series Professor at Nanyang Technological University and Founding Director of NTU Centre for Contemporary Art Singapore Ute Meta Bauer will discuss with artist and researcher Nabil Ahmed, who together with Olga Lucko runs Interprt studio, which uses design and spatial analysis to work for environmental justice and to make Ecocide an international crime.
Art education's role in ecological transition
Dean of the Academy of Fine Arts at the University of the Arts Hanna Johansson will be joined by Head of Research for Dartington Arts School Tracey Warr to discuss the ecological transition at an art school. Dartington Arts School has a rich interdisciplinary learning community of staff and students working with a passion to be change-agents for a sustainable future. In its new strategy the University of the Arts in Helsinki has identified art as an important testbed, alongside scientific knowledge, for the new realities faced in solving the ecological crisis.
Sustainable energy and identity
Artist and researcher at BIOS Antti Majava will discuss energy humanities, the role of art in energy identities and energy regimes with researcher at Finnish Institute of International Affairs Emma Hakala and Professor at the Aleksanteri Institute – Finnish Centre for Russian and East European Studies Veli-Pekka Tynkkynen. Tynkkynen specialises in ecological energy transition in Finland and Russia, and Hakala has studied securitisation of the environment, climate security and sustainable energy.
Media extraction and material as witness
Professor at Winchester School of Art (University of Southampton) Jussi Parikka will have two conversations on the themes of cultural and material extraction, media extraction and material as witness. The first will be with artist, researcher Samir Bhowmik, who is based in Helsinki, and the second with artist, researcher Susan Schuppli, who is based in London. Both artists aim to relink the material world and its affordances with the aesthetic, the juridical, and the political.
Helsinki Open Waves
The podcast is produced in collaboration with Helsinki Open Waves. HOW is a translingual non-profit, fee-free open platform that aims to design and initiate a new sustainable platform for people who live in Finland to represent themselves with their own language and culture in order to contribute to a more diverse society.
The podcasts will be released on several platforms: Helsinki Open Waves, Spotify, Apple podcast, Soundcloud.
We would love to have your feedback. Please give it here >>
Release dates:
The Art, Science, Ecology podcast series will continue with questions about the climate crisis and biodiversity loss, as raised in the Art, Science, Ecology course run in collaboration with Helsinki Institute of Sustainability Science (University of Helsinki) and the Academy of Fine Arts (University of the Arts). Watch the lecture documentations here on IHME's YouTube channel >>