IHME 2022 Commission Report #1
07.03.2022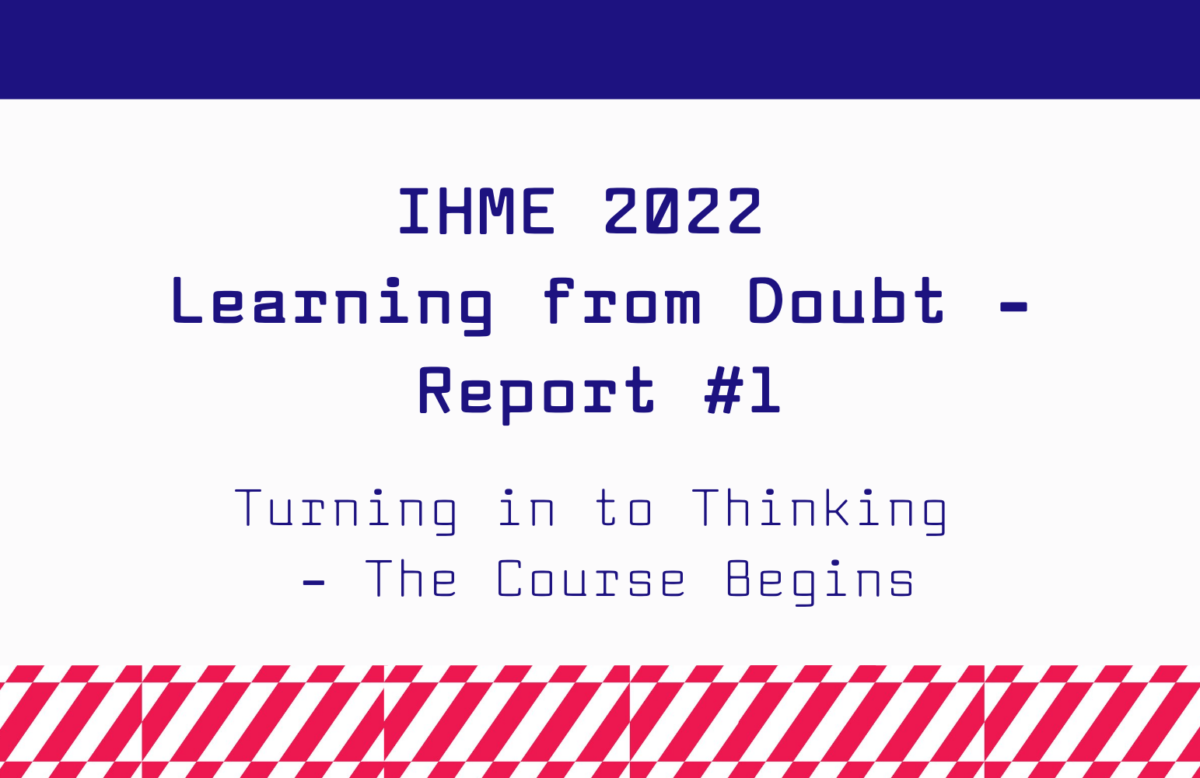 Tuning in to thinking – The course begins
IHME Helsinki Commission 2022, Amar Kanwar's online course Learning from Doubt, has begun. The ten-week course will take various concrete forms: meetings with the artist and other participants, reading lists, assignments, exercises. The course platform is a beautiful, newly opened website, where the material is gathered week by week. Learning from Doubt is based on Kanwar's long-running, ongoing installation The Sovereign Forest.
There are three assignments in the first week, which participants can choose from as they like. For example, they are asked to gather material, thought-provoking content that is important to them, and which helps them observe the asking of questions and problematization. Kanwar distinguishes between the processes of research and preparation: the purpose of the first assignments is to help participants to attune themselves to receiving not only the content demonstrated in the course, but also their own reactions to it.
Tradition and the accumulation of knowledge
In the first week's reading list, A.K. Ramanujan argues that all Indian cultural practices are in one way or another indebted to the country's oral folklore tradition. G.N. Devy points out that although India's literary tradition is some 3,500 years old, the printed book in India is much younger, about 200 years old. According to Devy, the works of art – written or pictorial – of India's indigenous peoples, the Adivasis, take their traditions seriously and actively, for example in terms of their subject matter.
Kanwar talks about the constant joining together and overlapping, and the cumulative nature of knowledge. Learning from Doubt is like the latest accumulation to The Sovereign Forest. At the same time, it is connected to the place of the artist and artists, to their cultural background, to other artworks – and to the traditions in which the work itself originates.
The ecological crisis and uncertainty
In the work, the universal is placed alongside the local. In terms of content, this means, for example, attempting to understand the effects and manifestations of the ecological crisis, as well as the role played in them by humans. The title of the work refers to learning driven by uncertainty or doubt, especially with regard to how the intersection of a work of art and learning can be an important dimension in envisaging and talking about the ecological crisis.
So, what could this course be? What might it become? The question is interesting because it bypasses the analytical and looks to the subjective. Kanwar has, for example, previously thought of The Sovereign Forest as a school. But now the focus is not on conveying a particular piece of information or on formally guiding participants, but on interrogating looking and understanding. Thus, the experience and route taken by each participant when engaging with the work is unique.
IHME Helsinki's intern Eero Karjalainen reported on the progress of Amar Kanwar's course on IHME Helsinki's channel throughout the course.
IHME 2022 Commission Reports