IHME 2022 Commission Report 2#
21.03.2022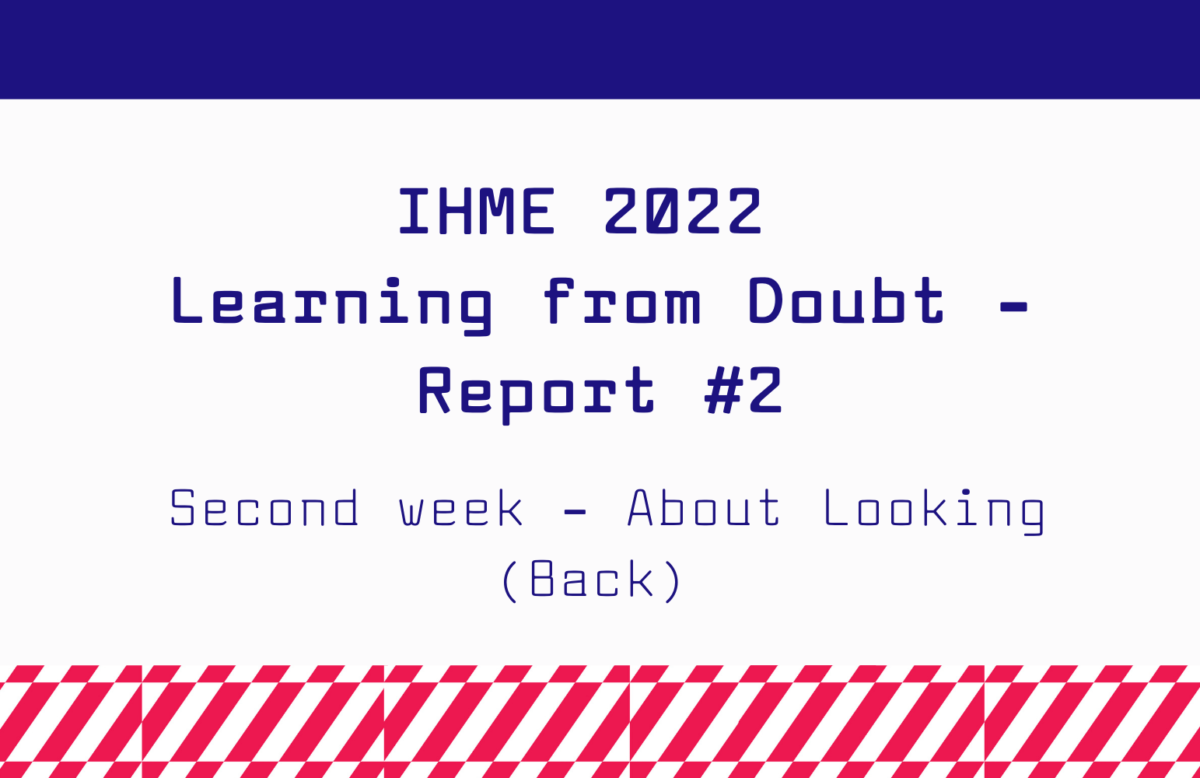 Second Week – About looking (back)
The second week of the Learning from Doubt course was topical in many ways. Thematically, it discussed, for example, violence, non-violence, perception and the place of the observer, as well as the possibilities of the documentary and documentarity. The materials focussed on works prior to The Sovereign Forest, continuing the first week's exciting, evocative style of content and reflection.
The materials for the second week on the Learning from Doubt website consist of three video works by Kanwar and a reading list, which, as in the first week, had been compiled into a book-like whole. In the video works, A Season Outside (1997), The Face (2004) and A Night of Prophecy (2002), poetic narrative is combined with issues related to oppression, social structures and human rights, both stylistically and on the level of their subjects. A virtual meeting in the third week of the course will discuss these works and use them as a basis for further discussion.
Violence, non-violence
A Season Outside is a documentary video work whose narrative formally comes close to being abstract. It deals with the India-Pakistan border region and the emotionally and politically charged issues associated with it. The feelings of threat and fear that arise from the presence of physical violence are beyond the individual's comprehension.
In discussing the possibilities of nonviolence, the American philosopher Judith Butler has asked what moral or political routes can we can consider for preserving life? A Season Outside says that nonviolence is about intervening in conflict, not escaping from it. Attitudes to conflict and its victims seem to be one of Kanwar's basic questions here.
The documentary and understanding
Film scholar Anne Rutherford writes that, while the context of Kanwar's documentaries is political, they avoid a simple engagement with and treatment of the subject. This is reflected in all the works in the second week of Learning from Doubt: we have to look back in order to understand the future, and we have to look back in order to find paths towards new ways of understanding.
Kanwar says the contents of his early works are stories that could not be put into words. This is linked not only to one of the themes of the course, doubt or uncertainty, but also to current global crises. Russia's invasion of Ukraine and ever-accelerating climate change are incomprehensible and unimaginable catastrophes that generate enormous emotional burdens. Nevertheless, a work of art can serve as a space where understanding and perception seek and find important new forms.
IHME Helsinki's intern Eero Karjalainen reported on the progress of Amar Kanwar's course on IHME Helsinki's channel throughout the course.
IHME 2022 Commission Reports