Miles and meetings
07.10.2020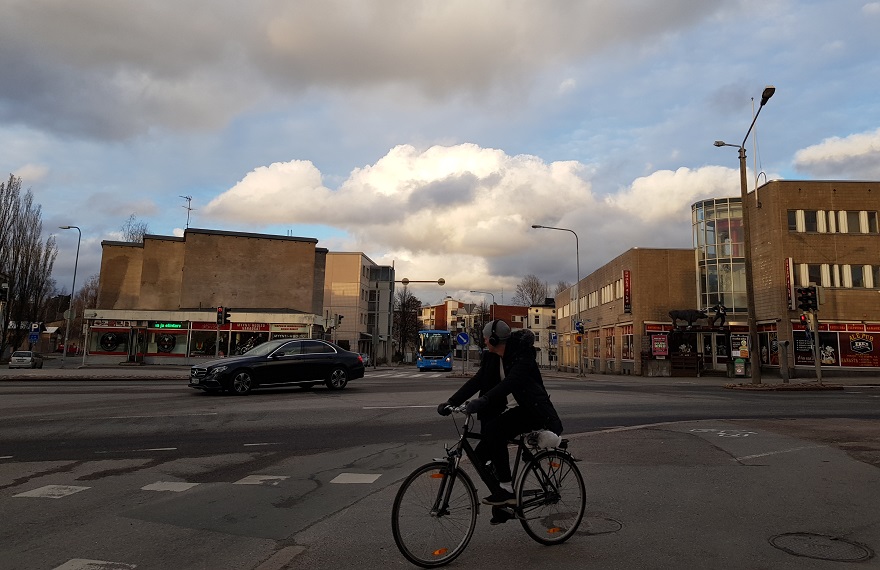 I am writing this blog at home. I have spent the whole day preparing for the Eco-Seminar in November, and I can't help thinking how much easier it would be to make decisions if all four seminar organizers – my employers – were sitting in the same room with me. I long for shared space and time.
A recent interview with a professor of artificial intelligence in Helsingin Sanomat newspaper stated that ideas get conveyed regardless of the physical distance between people, but things seem a bit more complicated on the art scene.
Art has a physical dimension
Art has a physical dimension. As long as people are embodied and works of art are physical, art is bound to a place. And places are not equal. There is the Ponte Vecchio and there is Helsinki-Vantaa Airport. There is Tate Modern and there is the local library's entrance hall. The Mona Lisa on video doesn't feel the same as when seen with your own eyes.
Such meaningful places and encounters prompt people to travel around the art world. New encounters and experiences are sources of inspiration and change, but also necessary steps in a career.
On today's international art scene traveling mostly means flying. This is a major source of emissions, at IHME it is the biggest, along with heating. When doing emission calculations, it is worth remembering that some emission calculators only show emissions resulting solely from fuel consumption. However, a "radiative forcing index", which is particularly high in the upper atmosphere (factor 5.2), should be added to these figures. For example, Lufthansa is to start using bio-based fuels, but even switching to biofuels is not a shortcut to happiness. If emissions are to be reduced, we have to rethink why and how we travel.
The big question: Why?
If international art is one of the core tasks of an organization, it is hard to even start asking questions about travel. That being the case, it is worth turning to Sakichi Toyoda's "Five Whys": Why is the international aspect valuable? What do we want to achieve with it? And how much travel does it mean? It is healthy to question the basis of our daily routines, since  most current human activities are unsustainable.
But, if we scratch the surface, we can uncover the ultimate goals that, at the end of the day, can contribute to humanity's chances of survival: increasing mutual understanding and trust, finding new perspectives, building cooperation, and even world peace. Once these goals are visible, it is possible to consider whether they can be achieved by new means.
Longer cycles, separating routines and a feast
Although we are stuck in both physical and mental infrastructures, it is still possible to make choices. One important option is assessing the need for a journey: Is it necessary to travel at all? Can the issue be dealt with remotely? The corona crisis has forced us to reconsider travel routines, and many everyday matters are now handled easily via video links. At the same time, physical encounters have gained in value, and getting to meet someone face-to-face is practically a feast.
Another choice is to continue traveling, but at a slower pace, less frequently, with longer stays at the destination. Is it possible to combine several meetings, exhibition visits and other goals in the same trip? Perhaps you can meet a work partner on the train?
Traveling as a part of work
COVID-19 has taught us to value commuting, a transition ritual that separates home from work. Especially when traveling by land, this ritual has to be taken into account in timetables. Not as a necessary evil, but as a potential good. But some questions have to be asked: Who pays for the travel and the time spent traveling? Will travel allowances soon be a forgotten practice, along with the Finnish State's principle of traveling "as quickly and cheaply as possible"?
Encounters are the basis of shared understanding
Coming back to planning the Eco-Seminar, this is one of the production processes not tied to a place. I'm sure that in the future, perhaps even now, I will be able to send colleagues an agenda on which they can tick "yes/no/undecided", and a computer-aided democratic decision will appear before my eyes. I'm also sure that now, perhaps in the future, too, I can meet co-workers in a physical place (gallery, sauna, restaurant, forest) where the wrinkles caused by unsettled issues are gradually smoothed out as the conversation step by step builds up mutual understanding and consensus, and we eventually return to our homes inspired and energized for action. Technological solutions are needed to combat climate change, but nothing will happen without the right mindset. And that requires shared understanding – and personal encounters.
Questions to aid self-examination by traveling organizations:
What is the goal of our work?
Who or what do we want to meet or reach?
What are the different options for personal meetings? Traveling across the country? Remote meetings? E-mail? Phone calls? A book? Letters?
Could scheduled trips include important work or much-needed relaxation?
Have you read these yet?
This article is part of a series published in 2020 about the carbon footprint of an art production, written by IHME eco-coordinator Saara Korpela.

Previously published Ecoblog posts:
Read all Ecoblog posts in the section Read and listen.